How to Buy an Engagement Ring  
---
Many couples come to us completely overwhelmed with the process of finding an engagement ring. Still others come to us, chock full of research about diamond 4Cs, but still confused about where and how to get started.
Our approach is to begin at the top - starting with identifying the overall aesthetic and style you're looking for.
Step 1: Set the Tone with a Style
Figuring out what kind of overall style you and your partner want for your engagement ring is a key starting place. Ring style dictates a lot of choices, from what setting and metal to choose, to which gemstones might look best, and so on.
How to find how your partner's dream ring without their knowing? Easy! Ask your partner's BFF – they've been plotting for years, trust us!
Chances are, you already have an idea of what kind of personal style your partner is drawn towards, based on how they dress, how they decorate their apartment or house. The key is to translate that into what that means for an engagement ring. Consider prying through your partner's jewelry stash for inspiration. You might find a hidden gem that gives you all the secrets. Is it a minimalist and modern collection, or a more ornate, vintage-inspired collection? Perhaps your partner is a nature lover and prefers a more organic piece. Consider a nature-inspired beauty with details that call forth sophisticated bark texture or breezy tree leaves.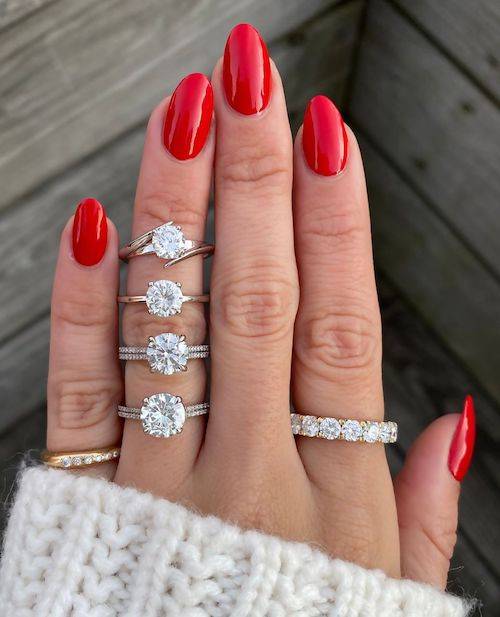 Finally, our personal favorite method to find out your partner's style: scroll through your partner's socials. Chances are they've archived a few of their favorites. All the answers lie on Pinterest and Instagram. Check out the saved posts and Pinterest boards under their account and you'll likely find a recurring theme. Is there a particular aesthetic (i.e., vintage, modern, nature-inspired) they are drawn towards? This is a great starting point for the making of your masterpiece.
Browse through our guide on different ring styles and settings to get a handle on the lingo of engagement rings, or take our engagement ring style quiz to help you in your hunt.
Sidenote: Whether to Shop Together, or Keep it a Surprise?
It's certainly romantic to think of your partner creating The Perfect Ring all on their own. But leaving it out in the open has its perks, too. Truly, you can't go wrong with keeping it open. Building your masterpiece is no easy task, but embarking on this journey together has the benefit of certainty. By shopping together, there's no room for guessing – from center stone preference to ring size to your partner's aesthetic – it's all on the table. A couple shopping together has a higher chance of achieving a combined vision of their dream ring.
Want to keep some element of surprise? We suggest you visit your jeweler as a couple initially to establish your likes and dislikes, and you can secretly return later (alone) to finalize the product, possibly with your own final touch like the personalization ideas we discuss below. This way your partner still gets to be surprised by the final ring!
Step 2: Setting Comes Next
This part of the process can be a challenge since style and metal preference come into play. However, it's important to keep in mind that the setting should be a reflection of your partner's style. Once you understand your partner's aesthetic, narrowing down setting options is easy.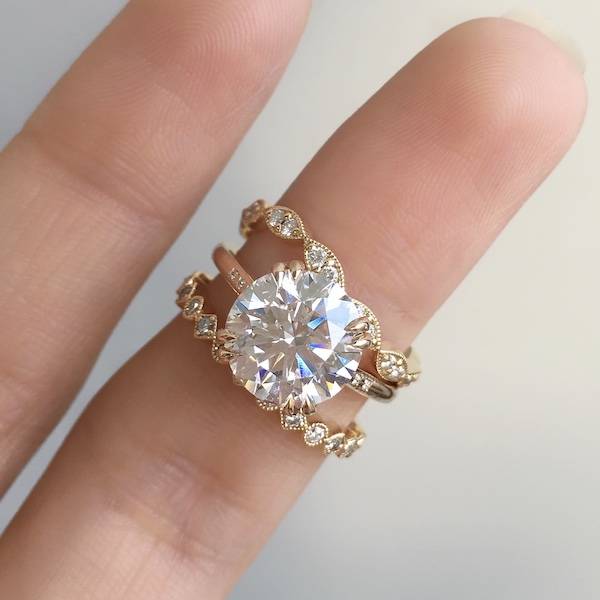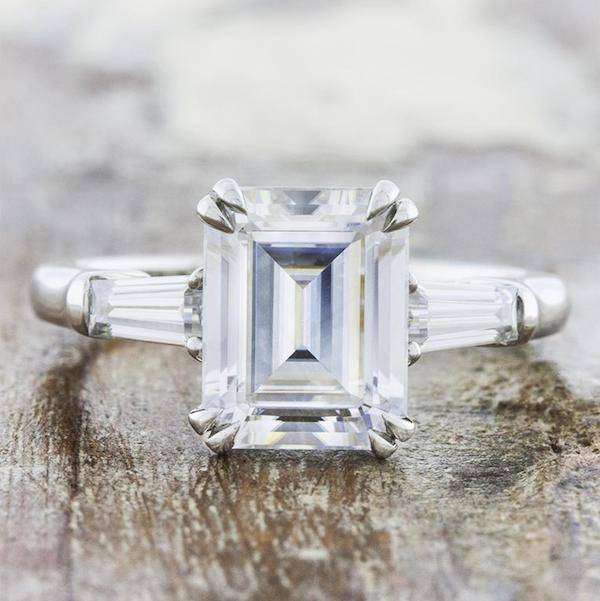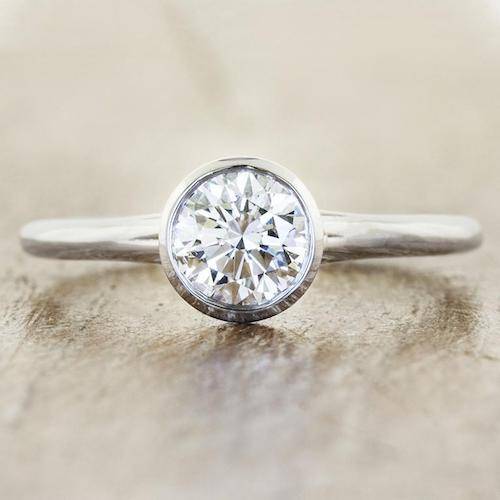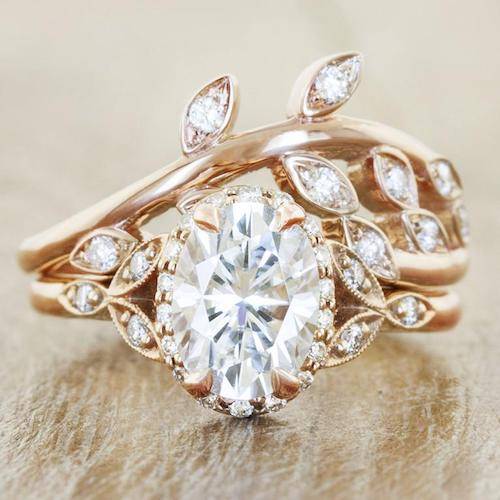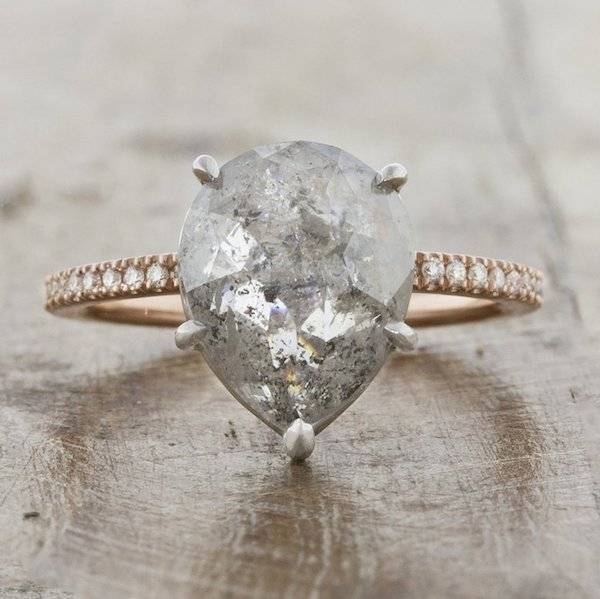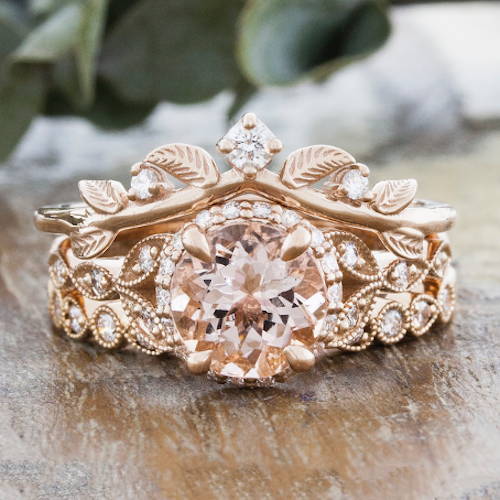 Metals are part of the setting and the overall look and feel of a ring, too. While some prefer rose gold for a delicate, romantic touch, others choose yellow gold for a traditional, classic look.
White gold and platinum lend themselves to any kind of ring, but can also be used to for a more modern aesthetic. White gold and platinum are different materials but look the same. White gold in its natural state is a warm, off-white color. To achieve an entirely white look like platinum, it is plated with white rhodium. Overtime, the rhodium wears off and needs to be re-plated to bring back its original color. Thus, white gold requires a bit more maintenance. Ultimately, the decision is up to what you and your partner prefer.
Step 3: Your Center Stone
While you need not be a diamond expert to buy an engagement ring, it does help to understand the basics - or the 4Cs. The components of cut, color, clarity, and carat weight all interact to give the diamond its unique beauty and durable structure. Having an understanding of what each represents will help you allocate your budget efficiently.
Here's a quick cheat sheet of the diamond 4C's:
Cut: The arrangement of facets in the stone, its angles and proportions. This is what will give you that sparkle–the most important C of them all!
Clarity: Indicates how many inclusions and blemishes are found in the stone. They can appear as white or black specks throughout the stone. Nearly every diamond is going to be flawed, what you're after is a diamond that contains imperfections not visible to the naked eye. For most shapes, you can go as low as an SI1 and still have an eye perfect stone.
Color: Refers to the presence of color in a diamond. Most people want a colorless or near-colorless diamond. Diamonds are graded in color from D–being the most colorless and expensive option–all the way to Z. The closer you are to D, the more colorless the diamond is. There are certain shapes that saturate the color of the stone while others mask it very well. If you're shopping for a shape that hides color, you can sacrifice a bit on this grade to really max out on the carat. For a natural round brilliant diamond, a H color grade or higher will give you a pretty colorless diamond. If you are going with a fancy shape like oval, or opting for a lab grown diamond, we recommend G color or better if you are after a colorless look.
Carat: The measurement of a diamond's weight. Because every stone is cut differently, two diamonds of equal weight can appear different in size. Fancy cut diamonds vary the most in size, so be sure to compare measurements as well when shopping around.
Some make the mistake of believing that they must buy the highest quality stone. Let your eye be the judge and don't base your opinion of a diamond solely on its paperwork.
The key is to find a balance between the 4cs. You must decide what is most important to you - the size? The color? From there, you can then evaluate what you want and what will work within your budget. Learn more at our diamond education.
Alternative gemstones: if you're not in the market for a diamond, but not sure what kind of gemstone you're interested in, check out our gemstone guide. While some gemstones like sapphires come in many colors, it helps to know what color range appeals to you most or has special meaning to you.
Another factor to consider whether you go with a diamond or a gemstone is what shape you're interested in.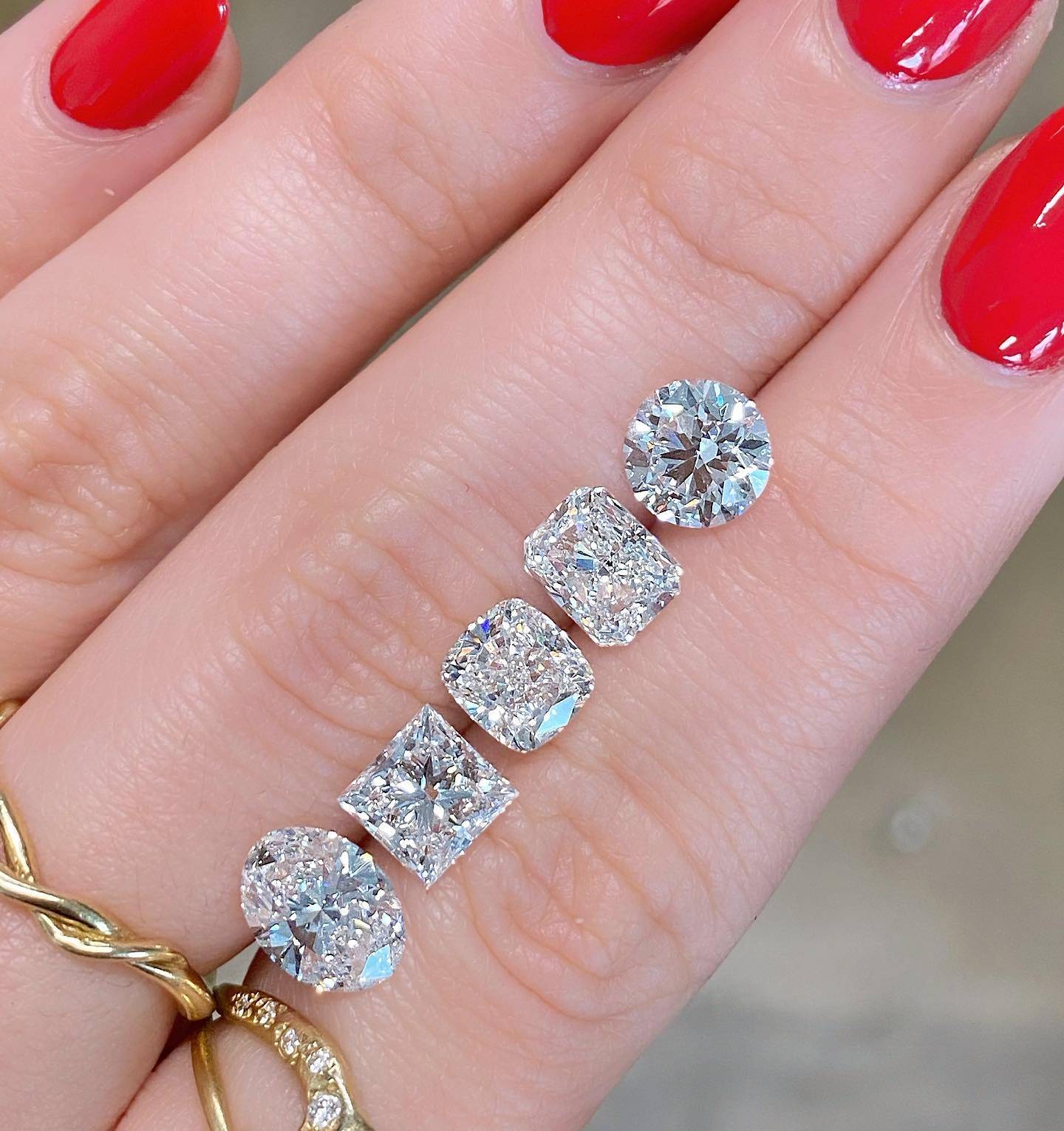 All the diamonds above are 1.50 carat weight, but different shapes.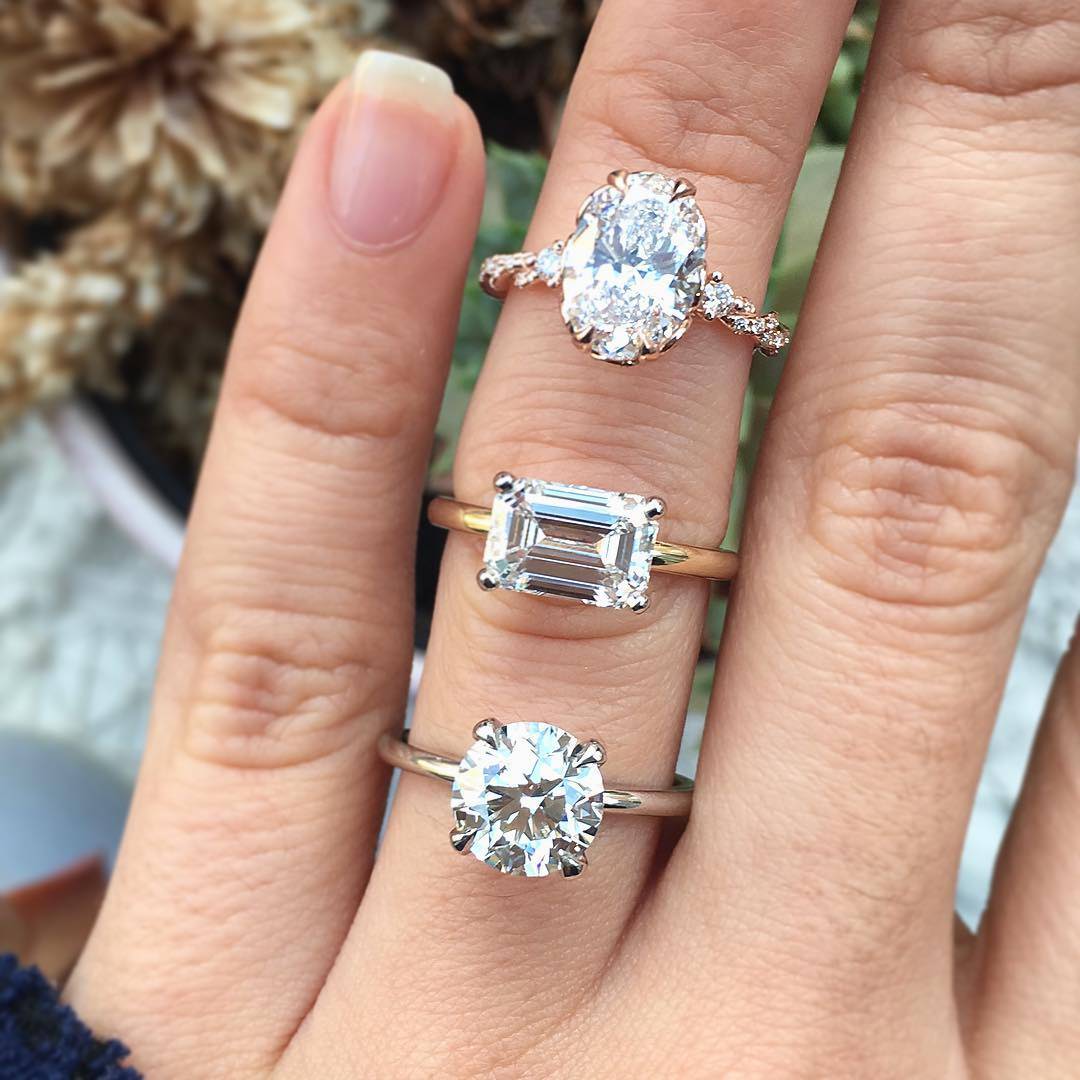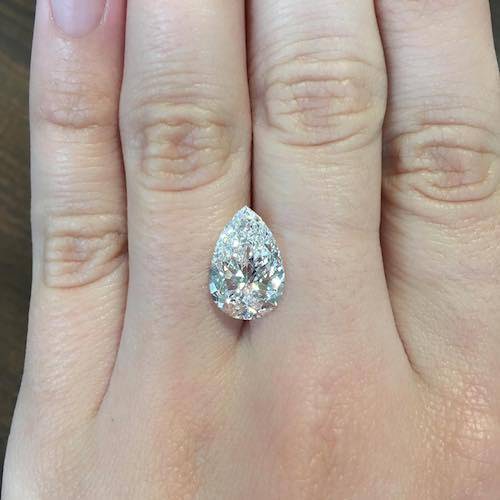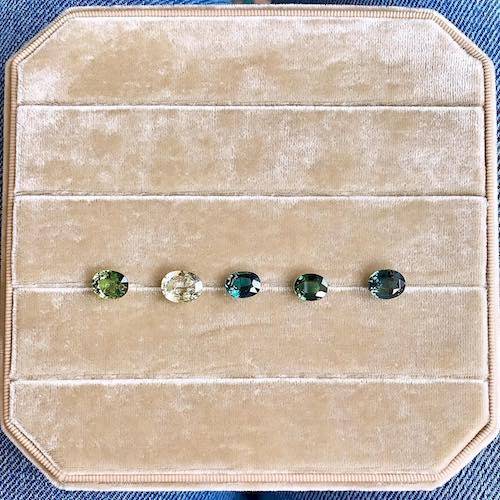 Step 4: Establishing a Ring Budget
Figuring out your ring budget is the logical next step in your journey. The good news is, if you've come this far, then you have a clearer vision of your dream ring, from the kind of stone and setting, to the overall look and feel.
The next part is to understand ballpark costs to achieve that dream ring, and figure out how much you're willing to spend. It's time to let go of how much an engagement ring should cost (and forget the three months worth of your salary "rule of thumb") and set your own boundaries. Read our guide to dig deeper into how much to spend on your engagement ring.
Chances are, the budgeting exercise will lead you to reexamine which aspects of the ring are most important to you. Simply express to your jeweler what you're looking for and be sure to prioritize what aspect of the ring you will be spending most on. After all, that ring is going to be in your life forever!
If you do choose to go the financing route, we offer ring financing through a partnership with Bread.
Step 5: Who to Work With?
This purchase is an investment, both financially and emotionally. You want to make sure you're entirely comfortable partnering with this designer to create a symbol of your love. Read their reviews and testimonials, reach out to people who have previously worked with them, and scope out their website. Do their designs speak to you? It's most reassuring when you know they will be able to execute your vision.
Step 6: Timing & Planning
As the excitement kicks in, it's easy to expect a speedy production process. However, production for custom rings takes weeks (about 6-8 weeks for production of custom orders). That does not include the planning, the visits or meetings, and so on. If you are interested in working with us, see our detailed guide to timelines for our rings.
If you have a proposal date in mind, be sure to begin the process well in advance to avoid delays. Don't be afraid to plan out the upcoming weeks while the masterpiece is in the making, and, of course, countdown the days!
Step 7: Fun with Personalization
Who doesn't love a little fun and easy? Here are some fun and easy ways to add (surprise) personal touches that won't break the bank:
- Engrave your fingerprint(s) on the inside (or outside) of the band. Wherever you go, so does your partner, and vice versa.

- A short quote goes a long way. It can be a simple reminder of your love

–"t

o the moon and back."

- Unforgettable anniversary dates celebrate new beginnings and the best memories.

- Geographic coordinates hit the spot. Whether it be your destination wedding location or where you had your first date, it lays forever in your heart and on your ring fingers.
If you're trying to find out your partner's ring size without their knowledge, we have a few ideas that may help, as well as our ring size chart.
If it's not a surprise, then we suggest you visit a jeweler for a ring size appointment to ensure the ring size is just right for your partner at first sight. Finally, you can contact us for a ring sizer to be mailed to you.
Sufficient protection for your treasured pieces is highly recommended. While in many cases you cannot purchase jewelry insurance directly through your jeweler, it is imperative that you have a policy which ensures coverage against theft, loss, accidents and the like. If you have an existing insurance policy, like Renter's or Homeowner's insurance, you may have the option of adding additional coverage for your new engagement ring. Alternatively, you can purchase jewelry insurance through a third party. Check out this helpful link for more information.
Engagement ring shopping has a reputation as being an overwhelming experience, but it doesn't have to be. Remember, this is a once in a lifetime ride. Leave it up to our design team to guide you through the technicalities of making your masterpiece. And just like that – you'll be ready to propose!