Who Buys the Wedding Band?
---
The world of engagement rings and wedding bands is full of traditional practices alongside modern takes. Everything from design to style to how to wear the rings is up for unique interpretations. And as more couples approach their wedding from a place of shared expenses, there can still exist confusion about the bands themselves. So let's demystify the process of who buys the wedding bands.
Tradition has it that each person pays for the other person's ring. So in a traditional wedding, the groom or his family would pay for the bride's ring, and the bride or her family would pay for the groom's ring. However, more modern understandings of this process and relationships between couples have expanded to consider many different scenarios.
Every couple may differ on how they purchase wedding bands, but it should all start with open communication. A wedding is often the first big financial expenditure a couple will take on together, especially if there's no family assistance. Being open about expectations, likes and dislikes will go a long way toward making this a smooth process.
For wedding bands specifically, many couples choose to pay for the band for each other as tradition has shown. However, there are other ways to approach it. For example, if one person bought the engagement ring - typically a more expensive purchase - the other person may pay for each of the wedding bands. Alternately, splitting the cost evenly or starting a shared wedding bank account that each person can contribute to and spend from can be very helpful ways to openly approach buying wedding bands as a couple.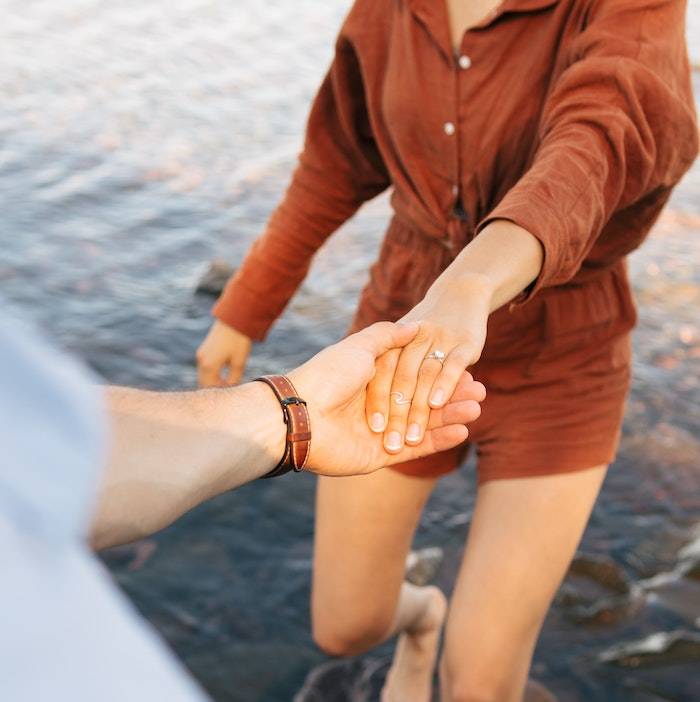 Just as with every decision you're likely to make about your wedding, the answer to this question is up to your personal preferences. Traditionally, wedding bands had far fewer design and style options than they do today. Most often, a simple, smooth metal band sufficed for both wedding rings. Today however, couples have far more options for how to approach choosing a wedding band.
For the bride, there are several approaches to choosing a wedding band to accompany an engagement ring. Some opt for a band that closely matches their engagement ring, while others choose a band that they can wear independent of their engagement ring. Many engagement rings can even be found as a wedding set with a matching band already included. Then, the groom's band can either be a distinct, preferred style or something that matches the bride's wedding band. Our Grove Set is a perfect example of matching bands that can all be purchased together and are stylistically synced with each other as well as the engagement ring.
Most couples today go to their jeweler and pick out wedding bands together as a couple, with each person ultimately having final say in their ring. It is often the case that the bands will not match. Instead, they're representative of what each individual personally wants to wear as a symbol of their own style and what the ring symbolizes.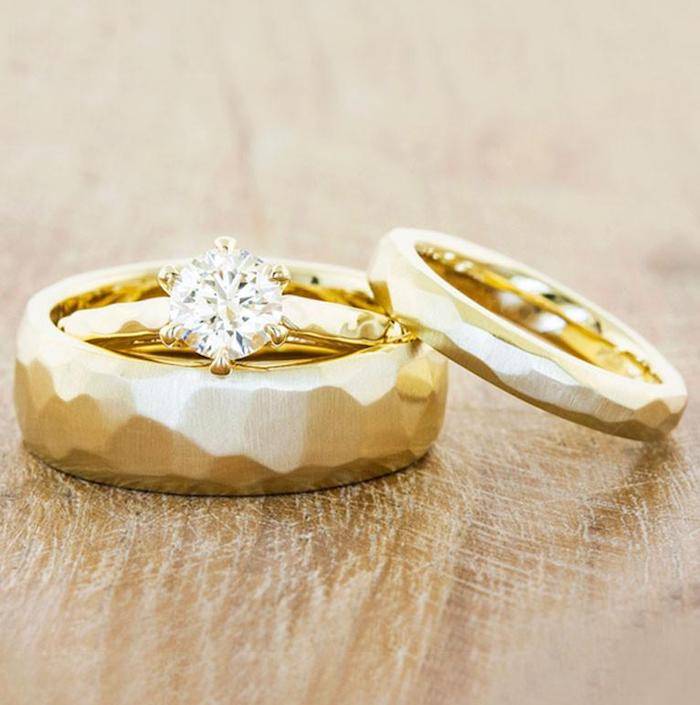 A question many people find themselves asking is whether they want something with diamonds, or something more minimalistic. We recommend trying on both styles and keeping an open mind. You'll want to put your lifestyle and occupation into consideration.
If you are very active, work with your hands, or travel a lot, you may want a low maintenance band that you can wear all of the time without having to fuss about cleaning or fear losing your ring. Something simple, without diamonds, can be both timeless and practical.
Many metal options are available to choose from with yellow gold, white gold, rose gold and platinum being the most popular. If you want your bands to look like they go together but don't specifically match, choosing the same metal is an easy way to accomplish that. Otherwise, both people can choose the metal they like the most.
From including gemstones, textural techniques or engraving, the sky's the limit for wedding bands. Depending on the choices that each person makes, there are ways to incorporate stylistic choices that create symbolic connections between the rings without outright matching. For example, this could be a matching gemstone or fingerprint engraving - details that can hold a lot of meaning.
Knowing your ring size will save you many potential headaches down the road. Eternity bands or rings with a design that goes all the way around are typically not resizable. And any engravings should be discussed with a professional jeweler to make sure they're safe in the case of a necessary resizing.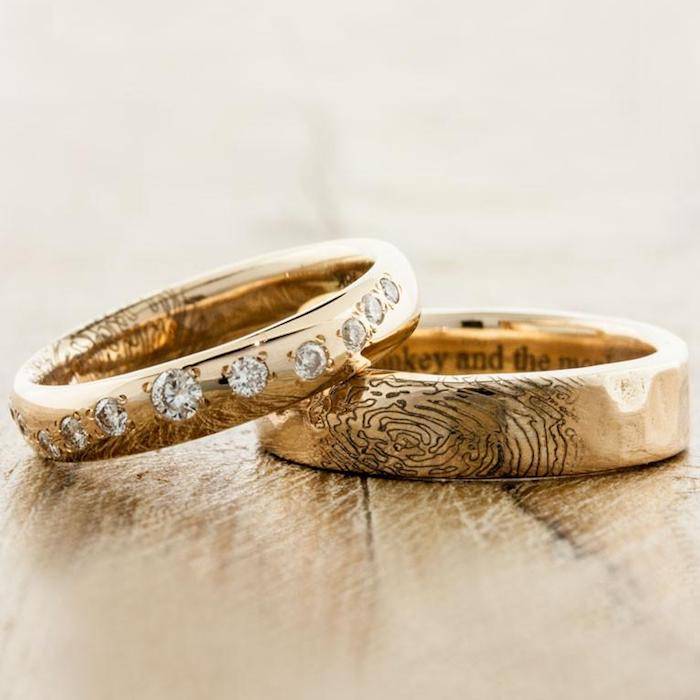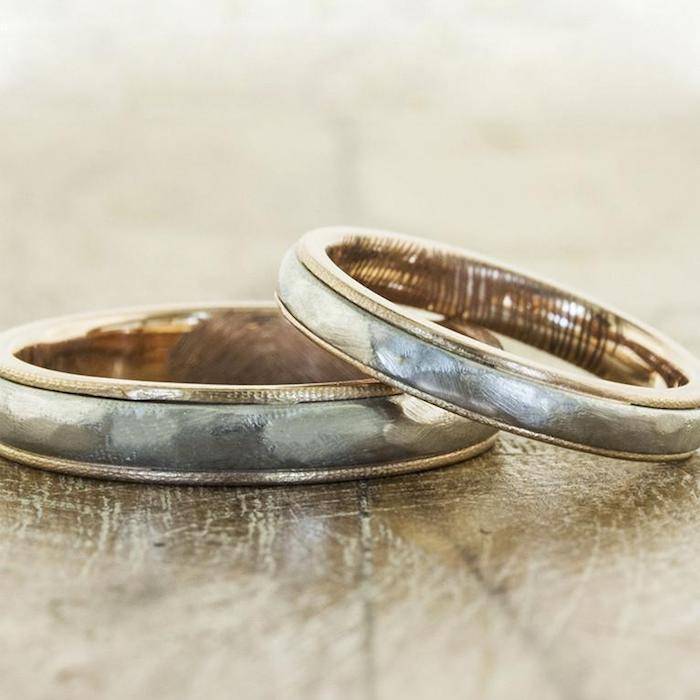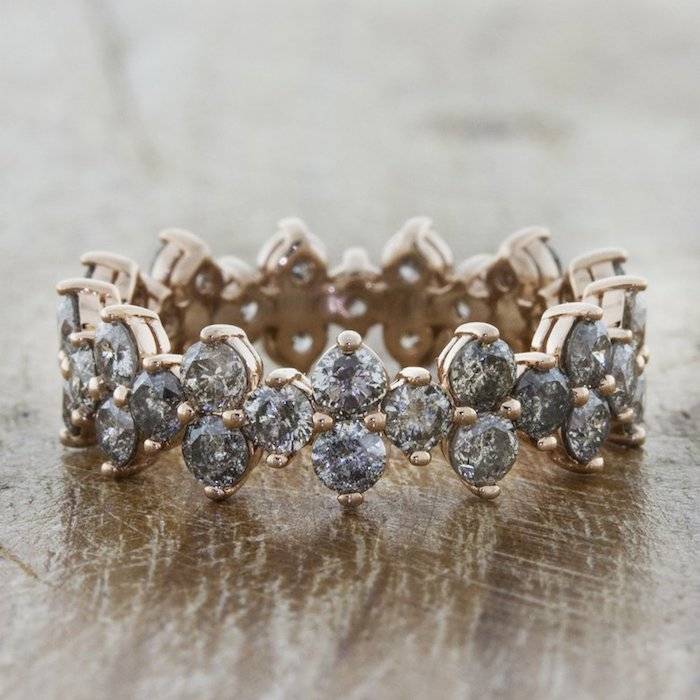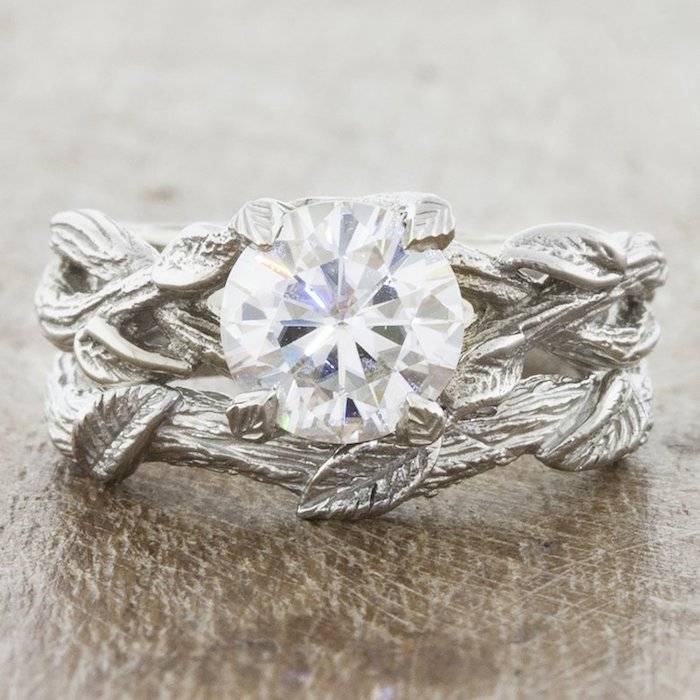 As you can see, there's no exact right answer to who buys the wedding bands. But the process of choosing ones that reflect your unique and special relationship is a surefire way to find something you love that honors your union.  
---
---