Oval Diamond Sizes on Hand
& Carat x MM Conversion
---
Approximate based on averages. Interested in conversions for other shapes? Please reach out.
Oval Diamonds of Different Sizes on Hand:
0.80 Carat to 3.5 Carats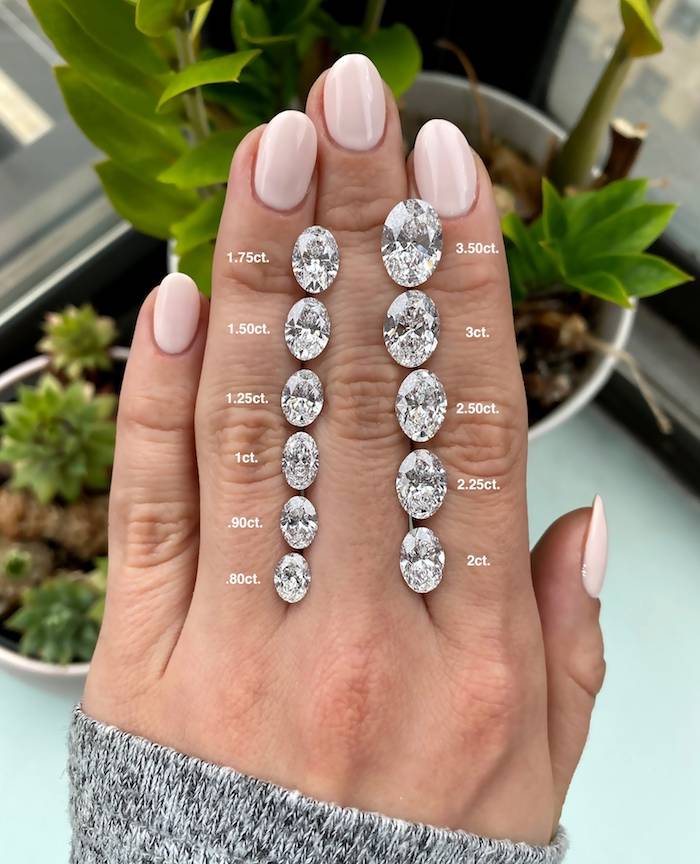 ---
There are many reasons why you should consider an oval diamond— they offer the classic feel and brilliance of a round diamond while still being a little out of the ordinary (and less expensive!). They also have the effect of elongating the appearance of the finger and will appear larger than their carat weight.⁠⁠
⁠⁠
However, its worth noting that the bow tie effect will be present in almost all oval diamonds and the stone may not hide its color as well as a round stone—meaning you'll need a higher color grade if you prefer a nearly colorless stone.⁠⁠
⁠⁠
We encourage you to take a look at a few different stones in different lighting before making the big decision, and at Ken & Dana Design, we'll help you do just that.⁠⁠ A few other pros/cons to consider are below; read our full guide on oval diamonds for more.
Pros:
- They can appear larger than their carat weight.

- Options to go with an elongated oval or a shorter, wider oval to help accentuate the look of your finger.

- Perfect choice if you want a classic ring that still has a little something "out of the ordinary."

- Oval cuts hide imperfections in the diamond really well.
Cons:
- The bow-tie effect is likely to be present in any diamond you choose.

- Oval cut diamonds display more body color, so you'll need a higher color grade if your preference is a near colorless stone.

- With so many varying shapes, it may take longer to find an oval that is the proportion, size and overall look you love.

- It's really hard to get an idea of how an oval cut diamond will look just based on evaluating gradings on a certificate.
---